SILK, POLYESTER, LAWN & COTTON DYEING
Our fabric processing facility is one of the largest and most avant-garde manufacturing dyeing units in the country.
With an array of bespoke italian, japanese and korean machinery, we have the capacity to produce 36 million yards of fabric per annum. Our custom made machinery is exclusively designed to process heavy and light weight fabrics i.e. Polyester, leather, american crepe, china crepe, silk, georgette and cotton amongst others.
Automated control systems manage the dyeing lines ensuring color quality, embossing machines are used for background prints & pressing, whilst comfort machines and specific treatments are deployed to acquire the selected finish and softness of the fabric.
Our specialist machinery is used in combination with only the most superior imported dyes and chemicals, result in our unparalleled quality and finishing of all the fabrics that are produced at Reshmatex.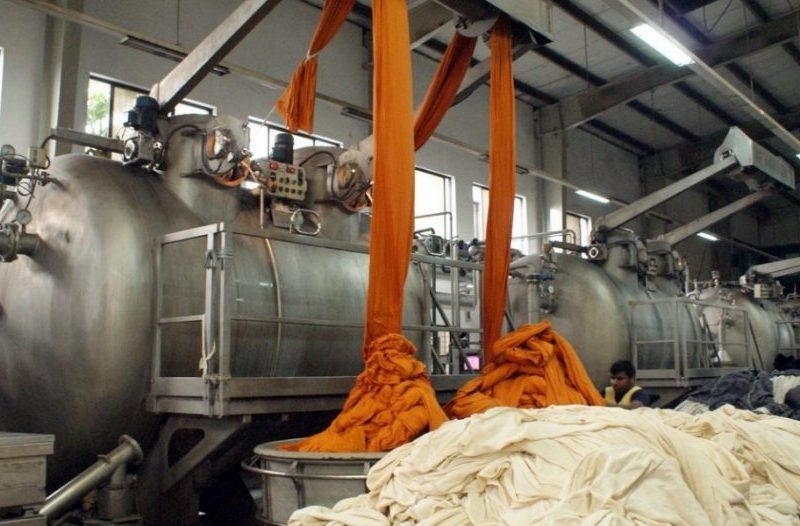 | Sr# | Machine Types | Quantity |
| --- | --- | --- |
| 01 | Endless Machines | 2 |
| 02 | Small Endless Machines | 2 |
| 03 | Totary Washer | 8 |
| 04 | Hydro Dryer | 2 |
| 05 | Slit Machines | 3 |
| 06 | Jet Dyeing Machine | 14 |
| 07 | High Soft Dyeing Machines | 7 |
| 08 | CP Machines | 1 |
| 09 | Scuture Machines | 3 |
| 10 | Stenter Machines | 3 |
| 11 | Reducer Machines | 2 |
| 12 | Cautic Mixer Tank | 4 |
| 13 | Net Dryer | 1 |
| 14 | Inspection Rolling Machine | 5 |
| 15 | Packing Machine | 2 |
| 16 | Heat Packing Machine | 1 |
| 17 | Comfort Machine | 2 |
| 18 | Embossing Machine | 1 |
| 19 | Gold Printing Machine | 1 |